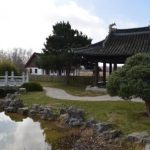 In later spring another floating island will be set up by the EUCC-D team in a public recreational park in Rostock (Germany). The installation site is located in a shallow, sheltered bay (1-2 m water depth) of the Warnow estuary with a salinity of approximately 10 PSU. This allows to apply the concept of plastic free floating wetlands also in higher salinities and to test plants with higher salinity tolerance.
Therefore, EUCC-D started a new cooperation with the IGA Park that was created for the World Horticultural Exhibition in 2003. Today the park consists of a large range of flower gardens, clusters of trees and vast meadows and works as recreational park for locals, event location and includes the largest floating museum in Germany.
The new island visible from a pedestrian bridge will be installed in the near of the museum und and the popular beach area. It will be complemented by an information board illustrating the concept and benefits of floating wetlands. As the IGA Park is also a place of extracurricular learning the floating wetland will be integrated in new environmental educational programs. Additionally, the EUCC-D team plans guided tours for kids and interested laymen.
The new island will be made of thermowood again, containing no artificial polymers. Blooming plants as e.g. Iris pseudacorus or Lythrum salicaria and salt-tolerant halophytes such as Tripolium pannonicum will be  pre-cultivated on coir mats to increase the aesthetic value for visitors already this summer.