In the middle of June our associated partner the Wolin national park organized with our polish partner the first Public Day in Poland. There, the general public, as well as authorities from the municipality and national park had the opportunity to get in contact with all LiveLagoons partners from Lithuania, Germany and Poland.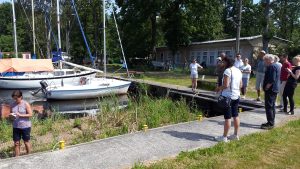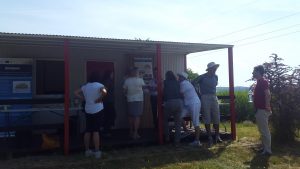 One day before the Public Day, all LiveLagoons project partners came in the Wolin National park administration together for the 4th partner meeting to exchange and discuss the latest results and further steps in the project.

Some background information about the polish installation:
The polish floating island is located in a small marina on Wicko Lake in Wolin National Park in the Szczecin Lagoon. This floating, 24 m² matrix is of a similar construction to the island in Lithuania: Hollow HDPE pipes are covered with coconut coir fibres and a mesh of PP holds everything together. Emergent macrophytes like Lakeshore bulrush, Carex riparia, Broadleaf cattail and Iris pseudacorus were planted in the determined hollow spaces.